What is so special about VNCcontacts+?
First of all, VNCcontacts+ is a straightforward contacts and address management tool. On top of that, VNCcontacts+ is an access point to all information from the user and identity management within an organisation. For example, when you are in HR, you can access the HR information of your team from VNCcontacts+ and you can see the team's user roles and permissions. Furthermore, when you view a contact, you see recent activities related to this contact (such as chat messages or emails sent) and you can trigger actions directly with this contact. Thus, VNCcontacts+ provides address management with CRM capabilities and many clever features for fast and efficient communication. Use VNCcontacts+ as an entry point for various ways of interaction and to streamline your business communication. 
VNCcontacts+ enables you to start actions using the following VNClagoon products: VNCmail (email), VNCtalk (chat, groupchat, audio/video calls, 1:1 and 1:x), VNCtask and VNCproject (task and project management). This will make your business communication and collaboration even more efficient.
VNCcontacts+ is available as a full featured Web Client in your browser, Desktop Client (Windows, Mac, Linux) and the VNCcontacts+ App (for Android and iOS). 
Please also check out our introduction of VNCcontacts+ for further information!
VNCcontacts+ – Your Enterprise Communication Hub
Our latest Release: VNCcontacts+ Version 1.4
Here is a summary of the latest features and changes, implemented with VNCcontacts+ version 1.4:
It is useful to be able to get back to search results again. So we implemented an option to save search parameters. To improve the contact management in VNCcontacts+, we added two new options: Contacts can be added to predefined lists and / or assigned to tags from the contacts page.
You all know this situation: You save a new phone number for a contact and suddenly the contact exists twice or even three times. VNCcontacts+ now allows to merge contacts to avoid double entries.
We also added a new context menu on the profile page of each contact to offer a more structured interaction: From this menu, contacts can be deleted, exported or printed.
Of course we are aware that most people use other applications on other devices, too. So you can now share your contacts with external applications.
Beside some minor bugfixes, improving the sorting and menu display, we further improved the layout by optimizing avatar and font sizes.
All changes of the release of VNCcontacts+ version 1.4 can be found in our Release Notes.
Add contacts to one or multiple individual lists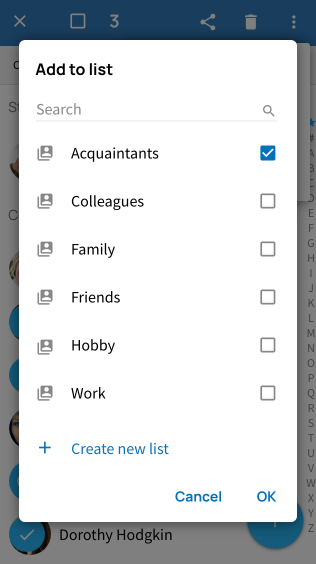 Context menu to delete, export, or print contacts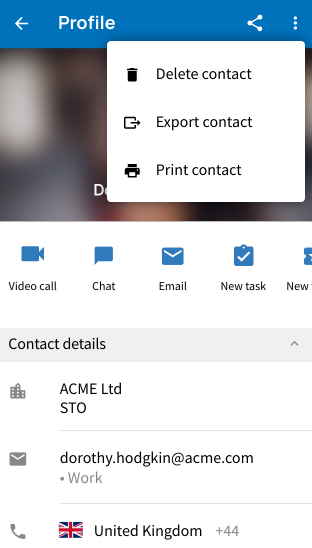 Menu to merge contacts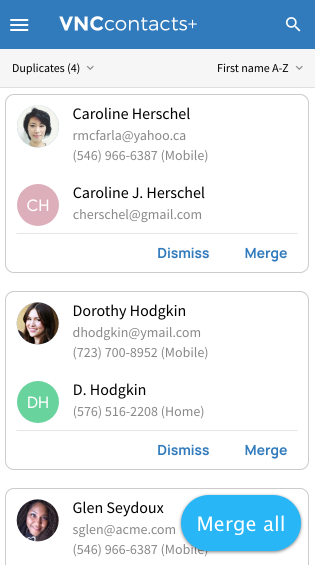 Saved searches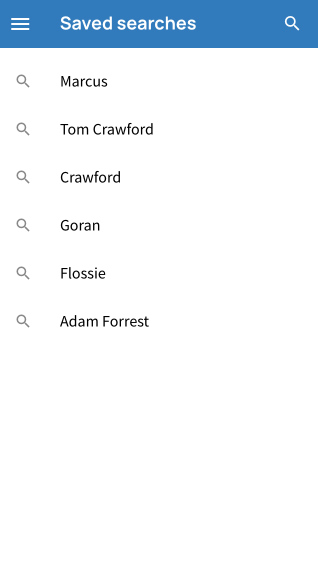 Menu to share contacts with other applications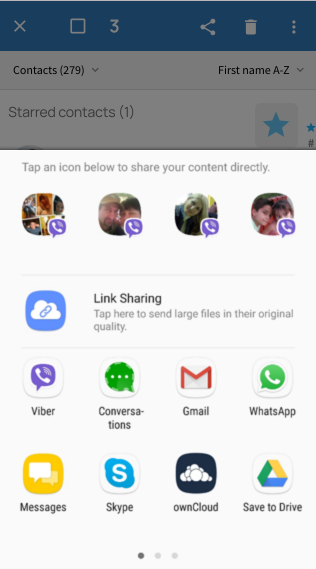 Different types of contact folders
VNCcontacts+ is an extended version of VNCcontacts, our straightforward yet powerful VNC contact and address management. Use VNCcontacts+ as entry point for various ways of interaction and to streamline your business communication!
Get access to all your contacts and their activities, trigger actions directly from a contact, add any kind of tag, flag or other criteria. See and manage all your contacts from different perspectives: from a CRM perspective, from an HR perspective or from an access management / directory perspective.
Read more about VNCcontacts+ in our introduction blog post.
With all our products, the security of your data is of utmost importance. Keep important information where it belongs – within your company!
VNCcontacts+ is a corner stone of VNClagoon. Please find further details about our recent release in our Release Notes.
VNCcontacts+ is part of our VNClagoon Business Software Stack
VNClagoon is the enterprise grade software stack for all of your communication and collaboration needs. At the same time your valuable data remains under your control – no black boxes and no hidden backdoors! VNClagoon is a real alternative to closed software from vendors such as Microsoft, with all the features and functionalities you expect from a modern communication and collaboration suite, including a messenger, real-time communication, groupware, project & task management, and much more.
We are convinced that the future of business software will be open source. Therefore our integrated VNClagoon stack is entirely based upon open standards.
Further information information about all our products can be found at: www.vnclagoon.com!