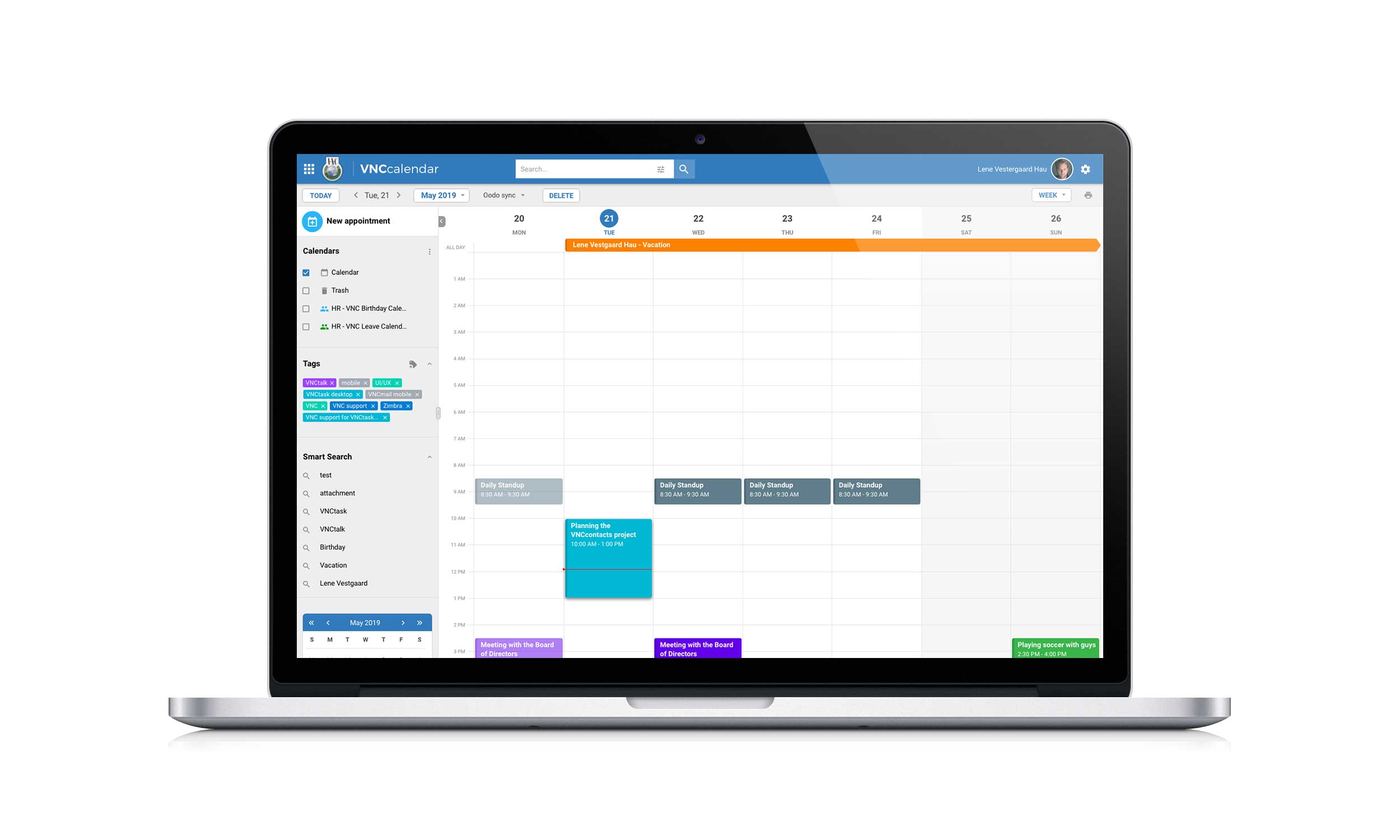 A powerful calendar is key to efficient work and important for collaboration. In September 2019 we introduced our brand-new collaboration tool VNCcalendar in a Sneak Peek. Only 4 months later we have moved far beyond beta status and are now rolling out VNCcalendar to first partners and customers.
A professional digital calendar does not only provide simple entries of appointments for each day but – like VNCcalendar – allows its users to sort different appointments in various folders and with different tags. Every calendar folder can be shared with other users or with the complete organisation, for example to support the alignment of global teams with vacation calendars and a calendar for different public holidays. This makes it easier to find a suitable date and time for virtual meetings.
With VNCcalendar we started from scratch to build an efficient and intuitive calendar, which can be integrated with several VNClagoon products like VNCmail and VNCproject.
New features include a configurable reminder time, new settings for Apple iCal files, new permissions and preferences, warning messages and more.
Version 2.0.0.182 contains new preferences for Apple iCal, permission management, view modes for work-week and hours and pre-settings for adding appointments. We also added a crop dialog to adapt the user's avatar image and a notification message in case the user wants to set an appointment date in the past. The splash screen now shows the VNCcalendar logo.
In version 2.0.0.175 we improved the German translation and the layout.
VNCcalendar 2.0.0.172 includes a new color theme. Now the working hours are highlighted and can be individually set in the preferences. We added a marker for the current date in the mini calendar, when the user selects another date from the new/edit appointment view. And we created new buttons and fields to hide/show the sidebar, to add additional participants, to check/uncheck all appointments in the calendar list view and to search an appointment location from a list of previously used locations.
VNCcalendar is tightly integrated with our VNClagoon business software stack. Please have a look at our VNCcalendar architecture chart for technical information: