Meet VNCchannels, a brand new product in our VNClagoon Business Software Stack!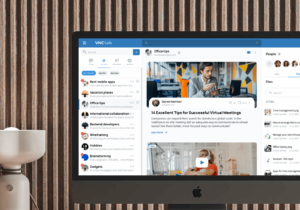 Take your enterprise communication and collaboration to an entirely new level, create and manage content, boost creativity and enable innovation!
VNCchannels is the perfect place to safely store your data as well as to search and retrieve information – a central information hub or your knowledge library, so to say.
Bring your community, your virtual or hybrid team together and collaborate productively. Share ideas, discuss animatedly, come to conclusions, reach decisions and move forward with a common purpose. This is how innovation happens!
VNCchannels – generate and grow knowledge – collaboratively!
Definition of a Channel:
A Channel is a container for various topics enabling the management of users, access, permissions and subscriptions. A Topic is a post in a Channel with varying content, which can be collaborated and commented upon by its members according to their permissions.
VNCchannels – rich in collaboration features
Channels serve as a container for Topics: all kinds of content including text, files, images, videos and more find their place in persistent Channels organized by Topic and tags.
You can create public or private Channels and Topics, whereby you decide who has access to which content with your organization – either everyone or invited persons only. You can assign roles to define who can work on the Topic's content as a participant and who is able to manage the Channel or Topic as a moderator.
"Smart Link" any object of your choice, for example related Topics, emails, tasks or tickets to establish a traceable connection! And use the power-search to locate any kind of content you are searching for.
You decide how your Channels look like! To adapt the presentation of information in VNCchannels to your personal needs, you can subscribe or unsubscribe to various Channels or Topics. And you can share your insights by leaving likes or comments. VNCchannels offers different viewing modes (tile views with previews) for you to select from. By pinning a Channel you can define what information grabs your eye first on your Channel Dashboard. The display of Topics is also customizable.
The complete feature list and more detailed information about VNCchannels can be found here.
VNCchannels – your collaborative advantage
By using Channels and Topics you can store and collaborate on any kind of content like text, images, hyperlinks or files in one central place. Thereby, you gain a much better overview and a variety of more options than by chats or group chats, where you might end up scrolling through a complete chat history. The comment hierarchy allows a more structured discussion than in a group chat or in tickets, as helpful as these tools are for your work! While a chat is a great tool for quick responses, VNCchannels is designed to give you the liberty you need to brainstorm, to gather ideas and materials for longer-term projects and to collaborate easily and securely on tomorrow's innovation. This will be incredibly useful for example when you are using VNCtalk for e-Learning or within your R&D departments.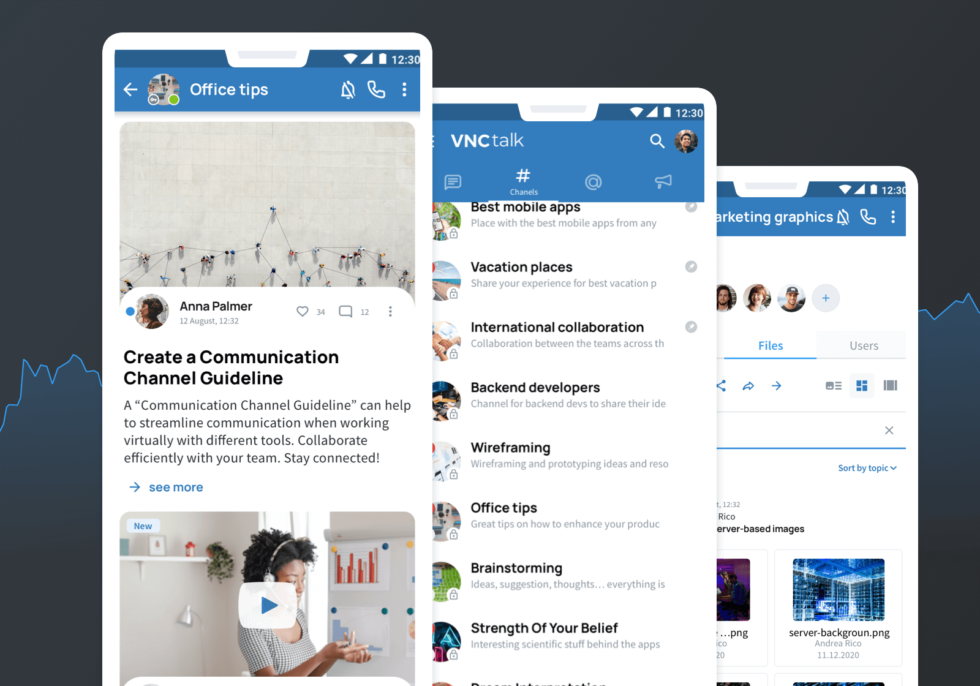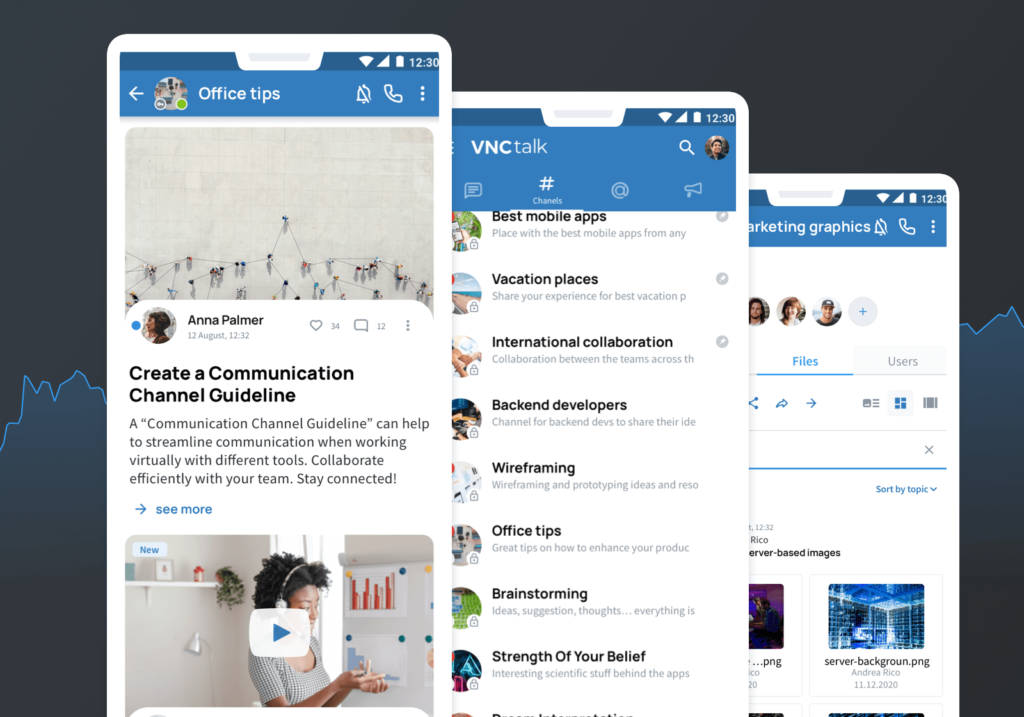 Just a different way of business collaboration? Or why should I use VNCchannels instead of a VNCtalk group chats?
As always, use the tool of your choice! 😉  We think that VNCtalk group chats are perfect for discussions in a defined group of team members, e.g. to decide how to tackle the day's assigned work in product development or how to fix an issue in your software application. All participants in the group chat can communicate instantaneously and share their views and give feedback. For more complex topics, it will be helpful to open a VNCpad to collaboratively add structured notes for decision-making. Or you might want to switch to a short video call (possibly also to share your screen) to discuss the topic in depth and hands on.
You need a more open discussion and need to tap into your creativity? VNCchannels is the perfect place to collect content and collaborate liberally on any topic of your choice, for example to collect ideas for a new product, to contemplate different business strategies or to discuss the next blogpost or whitepaper.
Collect ideas, text parts, links, files and pictures in a Topic and let the members share their feedback and comments. The comments can be formatted in rich text format and enable the user to include images, files and videos.
VNCchannels can be used as a stand-alone product or it can be integrated seamlessly in VNCtalk, VNCproject or VNCgroupware, wherever you like.
Further information about VNCchannels can be found here. Please also check out our VNCchannels youtube video:
VNCchannels is available as Web Client, Desktop Client and App.
With all our products, the security of your data is our top priority. Keep important information where it belongs – within your company's or organization's control!
VNCchannels is a product of the VNClagoon Enterprise Software Suite – for Secure, Best in Class, Seamless Communication and Collaboration. 
About VNClagoon
Secure, Best in Class, Seamless Communication and Collaboration, Lowest TCO
The VNClagoon enterprise software suite offers a full range of integrated communication and collaboration products for messaging, real-time conferencing, community building, channels, email, groupware, task and project management, file handling and more for large organizations. Built upon state-of-the-art open source technology by thousands of world-class developers around the world, VNClagoon is a leading alternative to closed source and SaaS-only applications like Microsoft Teams, Zoom, WhatsApp, Dropbox and many others. Now it is possible for VNClagoon customers to gain greater control over their digital sovereignty as they communicate and collaborate more securely using one completely integrated suite of applications.
For more information visit: https://vnclagoon.com or contact us: sales@vnc.biz